Mark Suddaby
Biography
Born in Gloucester, England, in 1970, Mark J Suddaby grew up in a large family in an old farmhouse in a picturesque Cotswold village. As soon as he was old enough, Mark joined the Army and at nineteen, was selected to attend the Royal Military Academy, Sandhurst. Mark is still a serving infantry officer and a recent graduate of the United Kingdom Defence Academy. He has served in Northern Ireland, the Balkans, Iraq and Afghanistan. Aside from reading, and writing techno-thrillers, Mark is a keen skier, lover of motorsport, cars and tech. Mark draws much of his writing inspiration from his Grandfather, Donald Suddaby, who published a number of science fiction novels. His titles include The Death of Metal, Star Raiders and Lost Men in the Grass. In addition, Mark draws heavily on his military experience and interest in the geo-politics of a diverse race occupying a single habitat. Contemporary influences include Peter F Hamilton, Alastair Reynolds and Iain M Banks. Fjörgyn's Tears represents Mark's first major work. His second, Robbing Peter, is currently in production.
Books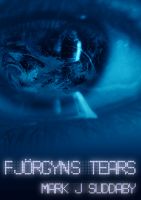 Fjörgyn's Tears
By
Mark Suddaby
Price:
$2.99 USD.
Words: 121,990. Language: English. Published: January 21, 2012. Category: Fiction
In 2061 the world is in its final death-throws as tensions between Supplier Blocks and Consumer States turn nuclear. Meanwhile, Joshua, a British scientist, stumbles upon a way out. The Leadership agree, knowing that it isn't their world that Joshua will save. Joshua's people make their escape, only to find that upon their return, things aren't quite as expected. And what is Alice really up to?
Mark Suddaby's tag cloud