Mark Ricci
Biography
Mark Ricci lives in the coastal town of Scituate Massachusetts. An Electrical Engineer, and inventor of the Ultraviolet Germicidal Mask System. Mr. Ricci is also a martial arts instructor, and enjoys making adventure movies with his students, including the Crystal Thief, done in 2000. Mark Ricci's sculpture can be seen in hotels and businesses across the country, including the lobby of the Hawthorne Suites Hyatt in Orlando Florida. In the writing of Puddles and Hunter, Mr. Ricci was inspired by his father, Theodore I. Ricci Jr., who taught at Haberdashers Aske Hampstead as a Fulbright Scholar in 1952 and 1953, and by the students of his form who kept in touch over the years. Mark Ricci's mother, Laura C. Ricci is the author of the Tale of Ragged Sarah Langley, an Army of Two, and Salem's Firsts.
Books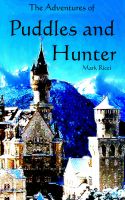 the Adventures of Puddles and Hunter. Headmaster Weasel
Alternately slow moving and fast paced, the Adventures of Puddles and Hunter focuses on anthromorphised animal characters in England. The book is notable for its mixture of mystery, adventure, morality, and camaraderie.
Mark Ricci's tag cloud