Mary O'Dell
Biography
Appalachian born and raised, Mary O'Dell, poet with a crotchety black cat and an ageless heart, would live in a treehouse but there's not one big enough for all her books. Besides, at her age it would be a foolhardy venture. Instead, she allows that heart out on a regular basis to perch (sometimes warily) on her sleeve. The cat sleeps safe and sound on her chest at night. Mary is founder and president of Green River Writers, Inc., which offers retreat and critiquing sessions year-round. Her mentoring series in poetry and memoir happen in cafes and coffee shops in and around Louisville, Kentucky. Mary has several poetry collections to her credit, among them Poems for the Man Who Weighs Light and Living in the Body from Mellen Poetry Press, and The Dangerous Man by Finishing Line Press. Mary is at work on a new novel, a family saga and love story that takes place in the West Virginia coalfields in the thirties and forties.
Where to find Mary O'Dell online
Where to buy in print
Books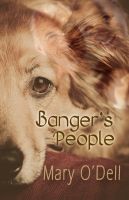 Banger's People
Every time Dixie Honaker feels that a ride on the love boat with her elegant, silver-haired neighbor Walter may be about to happen, Banger, her rude but good-hearted mutt, does something to splash cold water all over them. Despite Banger's helping to rescue Walter after he is mugged, the man still finds the dog a little too grungy for his taste...