Matt Kuntz
Biography
Matt Kuntz was born and raised in Helena, Montana. Matt received his bachelor's degree from West Point and his law degree from the University of Oregon. Matt served as in infantry officer in the Army and was recognized as Distinguished Member of the Thirty Fifth Regiment for his service. After leaving the military, Matt worked in high-end research and development for an environmental engineering start-up company before deciding to continue his education.

Matt was practicing corporate law in Helena when his step-brother, a Montana National Guardsmen who suffered from post traumatic stress disorder, committed suicide. Spurred on by his step-brother's death, Matt began advocating for effective screening and treatment of post traumatic stress injuries of our returning service members.

Matt's advocacy efforts on behalf of Montana's service members and their families were documented in the book, Faces of Combat: PTSD & TBI by Eric Newhouse. Matt was recognized by President Obama in his inauguration festivities as one of eighteen Ordinary Americans Who Have Made An Extraordinary Difference. Matt was also recognized as an Everyday All-Star by People Magazine and Major League Baseball.
Where to buy in print
Books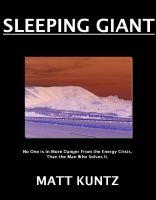 Sleeping Giant
Stone McCafferty should have left it alone, but he couldn't accept that the body he found in the Missouri River had died of natural causes. Stone didn't know that the dead man's secrets would reveal a earth-shaking new technology and the energy industry's plot to cover it up. He also didn't know those secrets would leave him and his loved ones in the kill zone.