Matthew Benefiel
Biography
I picked up an enjoyment of writing in high school, spending most of my efforts on short prose. In the following years I have attempted a few short stories, but never succeeded in turning an idea into a story, complete with development of my characters. It wasn't until the year of 2009, after five years of marriage with my beautiful wife and three wonderful children, that I woke up one morning with an eerie dream imprinted in my mind and my first story began. The rest is history...er, well is being written anyway. Let's just say my mind is full, now comes the hard part of emptyingit all out on paper.
Where to find Matthew Benefiel online
Where to buy in print
Books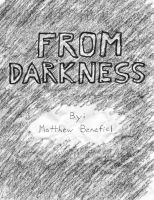 From Darkness
(4.00)
Robert Drake did not think much of his father's attempt to sway his dreams of becoming an FBI agent, nor the hallucination that took place during that attempt. It was long behind him now and he was bound and determined to make his own way in life. What he didn't know is his earlier episode was going to lead him down a much darker path.