Michael Canfield
Biography
Michael Canfield writes about monsters, superheroes, couples, babies, astronauts, paranoids, obsessives, and other people. He has published mystery, fantasy, science fiction, horror and just-plain-odd stories on fiction sites including StrangeHorizons, Spinetingler, EscapePod, Daily Science Fiction, in dead-tree magazines including Realms of Fantasy, Talebones, and Black Gate, and other places. "Super-Villains" was also republished in the prestigious Fantasy: The Year's Best series, edited by Rich Horton (Prime Books). Born in Las Vegas, he now lives, works, plays, writes, and watches television in Seattle and Los Angeles.
Where to find Michael Canfield online
Books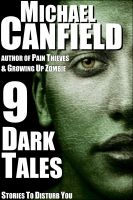 9 Dark Tales
From around the block, across dimensions, and beyond, come nine disturbances in the fabric of reality: Stairwell to Hell, The Book of Thomas Welte, Solid House, The Common Knight, Transporter Technology, Nameless Man, Citadel Ninety-Nine, Too Much Information About Joss Kaffee, The Story Boat. Note: This edition combines stories from two short collections: HORROR QUARTET and THE COMMON KNIGHT.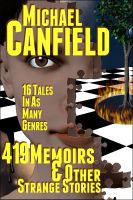 419 Memoirs & Other Strange Stories
Voyages to impossible pasts, bizarre futures, and skewed-but-recognizable versions of the present. Includes The Food Processor, Library Rules, They Get Away from You, Once Upon a Time At the Learning Annex, A Flavor of Quark, Whatever Happened to NinjaBaby?, The Whited Child, The Plastic Fruit Museum, and more. Plus two novel excerpts: Red Jacket, and Growing Up Zombie, and other extras.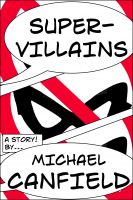 Super-Villains
In Excelsior City trouble finds everybody. Lang Lofton's busy managing his media empire atop the Kryse Building and roaming the night as a masked vigilante. He's got an new problem too: no villains left to defeat. Until his arch-enemy Archetype goes free. And just as the Venus Diamond goes on display at the Supernatural Wonders Museum. Then a deadly new player appears. Coincidence? No.
Michael Canfield's tag cloud