Michelle Marcos
Biography
Michelle Marcos has finally reconciled herself with being thought eccentric. She lives with an unlucky number of cats and struggles with a debilitating Starbucks addiction. How a child of Cuban parents living in Miami could become such an Anglophile is still anybody's guess. She graduated several centuries ago from the University of Miami with degrees in English and Education. Afterward, she spent several years being one of the "cool" teachers in a middle school, served as director of communications for Habitat for Humanity, and had a brief but illustrious acting career playing roles like Lusty Housekeeper, Death, and (perhaps prophetically) Author. Michelle has written five historical romance novels for St. Martin's Press, and has won the "Best Historical Romance" award from both the New England and the Yellow Rose Romance Writers of America chapters.
Where to find Michelle Marcos online
Where to buy in print
Books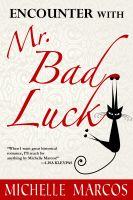 Encounter with Mr. Bad Luck
Anyone would think that a bookish spinster with bad eyesight has had her share of bad luck. But when accidents begin to happen at the worst possible time, Isha Elmwood spots the man behind the mischief: Mr. Bad Luck himself. Trouble is, she's the only one who can see him. Isha must find a way to stop this handsome knave without subjecting herself to the worst luck of all: losing her heart.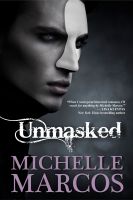 Unmasked
Some curses are secret. But for a woman like Paulette, one glance in the mirror will remind her how monstrous she appears to others. When she stumbles into the netherworld of the Paris Opera House and encounters a man even more deformed, she learns that only he is able to see her for the beauty she is. The frightening bond they forge might prove that some curses—though unbreakable—may be overcome.