Michael Bade
Biography
Michael Bade bought his first commercial fishing boat in 1976, with his college roommate Mark Halstrom. They taught themselves to commercial fish the hard way, alone on the sea, with a great deal of trial and error, at times barely keeping the boat afloat. Chronicled here are highlights of the sheer adventure, fun, mistakes, hard work and dangers that they experienced fishing Puget Sound in those years. Michael went on to own two boats and fish Bristol Bay, Alaska during the hay days of that fishery. In the off-season he was a musician who occasionally wrote music for PBS documentaries. He is now a video producer living in Seattle.
Where to find Michael Bade online
Where to buy in print
Books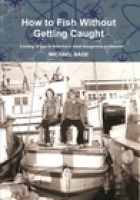 How to Fish Without Getting Caught
This is a coming of age story about two young men who faced the dangers and adventures of learning to commercial fish in Puget Sound. It an historical account about what it was like to commercial fish in the 1970's when Judge Boldt called in federal agents to arrest fishermen. It is an adventure story that will have you turning pages in anticipation and stopping periodially to laugh out loud.