Mike Ferrell
Biography
As founder and President of The Pinecrest Group, Mike Ferrell has worked with many companies in creating strategic plans, business development, training, hiring, management and marketing. He has over 20 years of experience working with companies helping them execute business success plans and his Business Planning Funnel is a unique process that helps business owners and sales people create executable game plans that will help them achieve their business goals. Mike has been involved in 11 different start-ups and has helped companies large and small achieve measurable results. In addition he has presented workshops, seminars and keynote addresses to thousands of business people throughout the country. Mike lives in Minneapolis, MN and is a graduate of the University of St. Thomas.
Where to find Mike Ferrell online
Where to buy in print
Books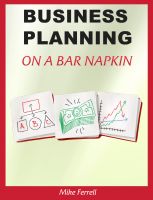 Business Planning on a Bar Napkin
Business owners face many challenges every day in running their business. So how do you look at your business from a big picture perspective and focus on the things you need to do to grow your business? Business Planning on a Bar Napkin gives you a simple, proven system that will help you get your focus back on the things you need to do to in order to grow your business. It really works!