Michelle Montgomery
Biography
Michelle Montgomery and her husband David Kent lived in Southern California with their three children until they moved to Oregon in 1984 to raise sheep and create an organic vegetable garden. Ms. Montgomery is a prolific poet with degrees in philosophy and psychology.
Where to find Michelle Montgomery online
Books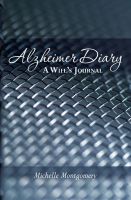 Alzheimer Diary: A Wife's Journal
"'The doctor tells me I have Alzheimer's.' The truth of my husband's words shook our world. This is my diary written for a time during the ten years of his spiral into another space."
Michelle Montgomery's tag cloud