M. Kay Moran
Biography
M. Kay Moran is an advertising copywriter from Washington State. She has recently been called "the best contemporary erotica writer you've never heard of" by a critic you've also never heard of. Moran's unique and vivid writing style has earned her many awards including an Emmy, a Clio, and a closet full of Tellies. M always appreciates reviews and other feedback on her work. She can be contacted at m.kaymoran@gmail.com
Books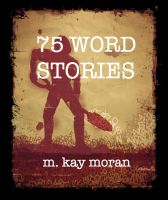 75 Word Stories
by

M. Kay Moran
18 free works of flash fiction from the talented pen of ad pro and erotica writer M. Kay Moran. Warning: Although these short works are not intended as erotica, they do contain adult language and themes.
M. Kay Moran's tag cloud
Smashwords book reviews by M. Kay Moran
INFIDELITY How To Catch A Cheating Spouse In One Hour Or Less on Feb. 03, 2013

Mission accomplished! By the time I reached the end of this, I knew for a fact that my longtime boyfriend was NOT cheating, but that we needed to talk. When I confronted him, he admitted that he'd been thinking about someone else. We are talking more and it is helping. Your book did exactly what you said. I'm so glad you wrote it!