Mary Leonhardt
Biography
Mary Leonhardt spent 35 years teaching high school English, in public, private, and parochial schools across the country. She has written a number of books on reading and writing issues, and currently lives in Bethlehem, PA with her husband.
Books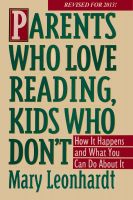 Parents Who Love Reading, Kids Who Don't: How it Happens and What you Can Do About It
By
Mary Leonhardt
Price: Free! Words: 78,790. Language: English. Published: August 2, 2013. Category: Nonfiction
This book describes why children have stopped reading, and what you can do to awaken a love of reading. She describes the stages children go through when they are coming to books, and coaches you in how to move your children through the stages. This is an updated, revised edition. When this book was first published in 1993, Doris Kearns Goodwin called it "a small masterpiece."
Mary Leonhardt's tag cloud