Malik Stan Reaves
Biography
Malik Stan Reaves participated in the anti-colonial/anti-Apartheid movements of the '70s and '80s as an activist and journalist. As a member of the Southern Africa Committee, he wrote for and helped publish Southern Africa magazine, the monthly periodical that chronicled the freedom struggles of Southern Africa from the mid-'60s to 1983. He also helped edit Return to the Source, selected speeches and writings of Amilcar Cabral, leader of the liberation movement of the first Portuguese colony in Africa to declare its independence. Reaves lived in Nairobi, Kenya during 1980-81 on assignment from The United Methodist Church. While there, he worked as an editor and correspondent for the All Africa Press Service, a professional news service funded and supported by African and Western Protestant churches. He has visited Angola, Mozambique, Zimbabwe, and a dozen other countries in southern, central, and western Africa.

A native of Newark, NJ, Reaves is an alumnus of Cornell University and lives in Brooklyn, NY.
Where to find Malik Stan Reaves online
Books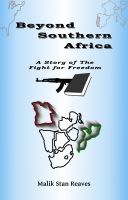 Beyond Southern Africa, A Story of the Fight for Freedom
(4.50)
Two young men—one Southern African, the other African American—go from humble beginnings to the center of Africa's fight against colonialism, but one of them is being tracked by a killer.