Lisa Erickson
Biography
Lisa Erickson is a meditation teacher, energy worker, writer, and mom to three. Her specialty is women's energetics, and in her work she draws upon Vajrayana Buddhism, Tantra, Zen, gnostic Christianity, shamanism, yoga, astrology, and several energy healing systems, most particularly the work of Cyndi Dale, with whom she completed a training program. She is the Buddhism editor for BellaOnline.com, and blogs about energetics, chakras, meditation, spirituality and women's issues at her blog, Mommy Mystic.
Where to find Lisa Erickson online
Books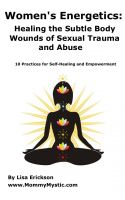 Women's Energetics: Healing the Subtle Body Wounds of Sexual Trauma and Abuse
This E-book offers a self-guided energy healing program for healing the subtle body wounds left by sexual trauma and abuse. Consisting of guided visualizations and meditations focused on the chakras (energy centers) it first helps a woman to release problematic energy from her energy body, and then to strengthen and open her sacral chakra.
Lisa Erickson's tag cloud