M.D. Steele
Biography
There is no box you can place me in, no category in which I fit. If I feel it, I write it. While attempting to describe me as a writer, you lose sight of my actual words. I write suspense, poetry, dark tales and thought provoking books with no similar theme. The only thing that connects them is an author full of emotions that need to be released.
Smashwords Interview
Where to find M.D. Steele online
Books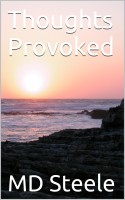 Thoughts Provoked
Take a journey through the mind of a woman whose thoughts are provoked by life and a spiritual quest.