J R Murdock
Biography
J.R. Murdock is an avid reader of almost anything he can get his hands on. That being said, he also writes with near reckless abandon in any and every genre. His style is intended for pure entertainment. Over the years he's written nine novels and over one hundred short stories. Only a few short stories have seen print (in actual print and on the web) so he's decided to throw his hat into the podcasting arena with his novels V & A Shipping and Billy Barbarian. His Murdockian Tales is a podcast collection of short stories, all of these titles available at jrmurdock.com.

When not writing like a mad-man, J.R. Murdock does have a day job as a computer programmer and loves to spend time with his lovely wife and beautiful daughter.
Where to find J R Murdock online
Books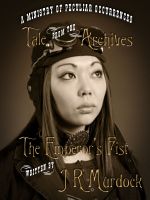 The Emperor's Fist
Spring 1889. Agent Reginald Coffey and Special Liaison Meiying Ling are deep within the jungles of China, setting technology against the oldest of dark Chinese magic. The two are set on a rendezvous with the most sinister of sorcerers and a plot to plunge the world into darkness. Tales from the Archives are short stories set in the world of the Ministry of Peculiar Occurrences.