Musa Kheswa
Biography
Musa H. Kheswa, commonly known as Mso, is a proud South African who domiciles in the south of Durban, in the township of Umlazi. He's a former telecommunications technician with an undergraduate degree in business management and administration. An intellect that believes in the upliftment of his poor community. He's an avid reader who discovered his passion for writing in the recent years which has resulted in his first novel 'Life Lessons Learnt - New Beginnings', becoming a reality. Is a dreamer who over-analyze life events, and loves to socialize during his spare time.
Where to find Musa Kheswa online
Books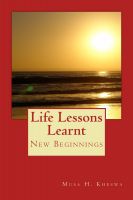 Life Lessons Learnt - New Beginnings
In the pre and post South Africa's democratic era, two men of dominant races that loath and despise one another (a young black hardcore gangster & a middle-aged Afrikaner killer cop) collide because of their opposite beliefs during their bloodied endeavours. Who will stand tall as a victor over the corpse of the other? What bizarre twist of events will shape both their lives? How will he reform?
Musa Kheswa's tag cloud