Dr. Sally Rose
Biography
This site is dedicated to information from the most sought-after doctor and healer of the 20th Century, Dr. Shyam S. Singha,(pictured here) formulator of Dr. Singha's Mustard Bath and other naturally therapeutic products. Born in Kashmir in 1920, Dr. Singha was a truly alive, aware, and creative genius who lived many lifetimes in his one very accomplished life. Honored as Bodhisattva by a number of spiritual masters, Dr. Singha is considered one of the greatest natural doctors and healers to have ever graced the earth.

Among the first pioneers of alternative medicine, Dr. Singha was a true master of Acupuncture, Osteopathy, Naturopathy, Ayurveda, and Tibetan Medicine, and originator of the "Food as Medicine" movement. He was founder of the first British School of Acupuncture, and he had a lifelong commitment to education and expanding the art of natural medicine worldwide. A true Renaissance man, Dr. Singha was also a painter, poet, a philosopher, and an extraordinary chef, in addition to being a world-renowned physician.

Dr. Singha played a significant historical role as a pioneer in bridging the medicine of the East and West.

Curriculum Vitae for Dr. Shyam S. Singha is included in "Dr. Shyam Singha, The Master Behind the Mustard Bath." (Dr. Singha lived from 1920 - Year 2000)
Where to find Dr. Sally Rose online
Books
Dr. Singha's Mustard Bath Bioenergy
(5.00)
Dr. Singha's Mustard Bath Bioenergy by Dr. Sally Rose reveals a bath lover's quest to learn more about the history of the mustard seed, the properties of the mustard bath, and the legacy of Dr. Singha's formulations for a stressed-out planet. Today, we all find ourselves up against more pollution, toxicity, and psychological stress than ever before. How to take a Mustard Bath and more.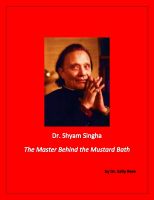 Dr. Shyam Singha, The Master Behind the Mustard Bath
(5.00)
Mustard Bath Formulator Dr. Shyam Singha, the Great Himalayan Master of natural medicine, was one of the most sought-after doctors of the 20th century. A Bodhisattva and master healer, Dr. Singha formulated the world-renowned mustard bath, pioneered the Food As Medicine movement, and taught the value of alkaline practices to balance the body's pH level.