Nancy Henderson-James
Biography
I grew up from the age of 2 until 16 in Angola, then a Portuguese colony on the west coast of Africa. I was the child of United Church of Christ missionaries. I attended a variety of schools, at home taught by my mother, at a small missionary kids' school on the mission of Dondi, at a British high school in the colony of Southern Rhodesia, now Zimbabwe, and schools in the United States when the family was there on furlough. I graduated from Carleton College and obtained my Masters in Library Science at Pratt Institute. After a long career as a librarian, I wrote At Home Abroad: An American Girl in Africa. I conducted a survey of Third Culture Kids, mostly missionary kids from Africa, and compiled the responses into this book. I have published essays and chapters in Unrooted Childhoods: Memoirs of Growing up Global; Writing Out of Limbo: International Childhoods, Global Nomads and Third Culture Kids; and magazines. I welcome contact with my readers.
Where to find Nancy Henderson-James online
Where to buy in print
Books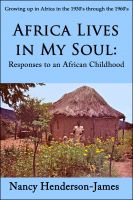 Africa Lives in My Soul: Responses to an African Childhood
How do missionary kids really feel about growing up in Africa? This heartfelt book exposes their raw feelings about their childhoods in Angola and Congo from the 1930s to the 1960s. Variously called third culture kids, global nomads, or MKs, we share an overwhelming love for Africa along with a lifelong sense of not belonging in North America.