Nancy Monson
Biography
Nancy Monson is a nationally published writer who specializes in the topics of crafts, creativity, health, nutrition and psychology. Her articles have been published in over 30 magazines, including Family Circle, First for Women, Glamour, More, Reader's Digest, Redbook, Shape, Weight Watchers Magazine and Woman's Day. She has been a crafter since she was a child and a quilter for the past 20 years.
Where to find Nancy Monson online
Where to buy in print
Books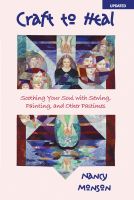 Craft to Heal: Soothing Your Soul with Sewing, Painting, and Other Pastimes
Craft to Heal is a self-help book that describes how creative hobbies and crafts can be transformed into healing arts. Mind-body research now shows that crafts and hobbies are good for our mental, physical, and spiritual health. The truth is, crafts aren't just enjoyable, they're downright therapeutic!