Natalie Francisco
Biography
Dr. Natalie A. Francisco has served as co-pastor alongside her husband, Bishop L. W. Francisco III, as well as the minister of music at Calvary Community Church in Hampton, VA. She has served extensively in full-time ministry for over 25 years in areas of leadership in both the Music and Arts and Christian Education departments of her local church.

Dr. Francisco received a Bachelor of Arts and Master of Arts in Christian Education from International Bible College and Seminary in Independence, MO as well as a doctorate in Christian Education from Carolina University of Theology.

As founder and executive director of the Women of Worth Conference in 2002 and the Women of Worth and Worship Institute in 2007, as well as author of Wisdom for Women of Worth and Worship (St. Paul Press), Dr. Francisco seeks to provide godly and practical instruction to women of all ages and stages of life who desire to learn and implement biblical truths and principles from her life's lessons.

Dr. Natalie and Bishop L. W. Francisco III are the grateful parents of three beautiful daughters: Nicole, Lesley and Lauren.
Where to find Natalie Francisco online
Books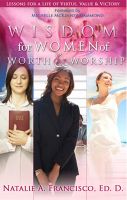 Wisdom for Women of Worth and Worship
This is an excellent resource for women who desire to take an introspective look into their past in order to become more productive in their present and future. No stone is left unturned as Pastor Natalie delves through the triumphs and tragedies of her own life in an effort to share with others 52 life lessons based on biblical principles that are key to living an overcoming life in every arena.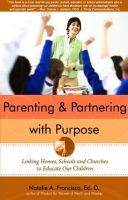 Parenting and Partnering with Purpose
This book is an inspirational resource designed to motivate parents, educators and church leaders to form and maintain strategic partnerships in the education of today's youth. Sound principles for parenting and teaching, as well as suggestions for establishing a Christian day care and school, are shared from a biblical perspective given Francisco's professional training and years of experience.