Nehemy Willy G.
Biography
Personal Profile

Nehemy Willy G. is a journalist by profession, with over fifteen years of work experience in several media-based organizations. He started his
career in journalism with Mid-Africa Publicity as a freelance contributor, rising through to the position of Managing Editor with Media Survey and Analysis. He later joined Pacific Publishers and
eventually Biznet Communications.

Drawing from his experience in journalism, (where he goes by the name of N. Willy Gachamba), he went into publishing in 1996, where he mainly
specialized in technical journals. Towards this end, he has been publishing a magazine on the science of food production (agriculture), and, most recently, a magazine on human heath. The two publications are the Farmer's Journal and the Health Journal respectively, both of which he has been the executive editor. He is also the administrator of the Christian website: www.christiansmedium.org.

Born in 1972, Nehemy Willy G is married to his wife Ruth. Together, they have been blessed with two kids, daughters precisely, namely Faith and
Hope. He and family resides in Nairobi, Kenya.

Spiritually, Nehemy Willy G. is a committed Christian of Adventist fellowship, where he also serves as an ordained church elder.
Where to find Nehemy Willy G. online
Books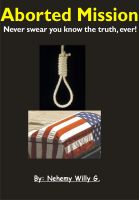 Aborted Mission
Brian went to Africa to uncover and document the awesome life of one native community. His girlfriend and family followed him for a different purpose. The result was a tragic chain of death, death and, yes, more death. The mission inevitably aborted.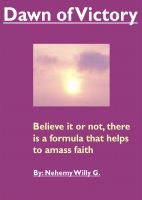 Dawn of Victory
Do you really have faith in God? Can you command a mountain to move into the sea? Well, why is our faith weak? It is because we do not trust God, for faith is actually trust. We do not trust God because we do not know Him, for trust results from familiarity. This book will help you know God so that you may trust Him; have faith in him.