Nicole North
Biography
Nicole North's erotic romance stories have been described by reviewers as "exciting, high octane, captivating, scintillating, sinfully delicious and pure romance." Her stories contain "heart and heat, killer love scenes, magic and extraordinary characters." Her works include Storm of Passion, Laird of Darkness, Blade of the Wolf, Scoundrel in a Kilt in Secrets Volume 30, Beast in a Kilt in Secrets Volume 29, Devil in a Kilt in Secrets Volume 27, and Kilted Lover.
Where to find Nicole North online
Books
Secretly Craving You
To Detective Nick Sullivan, Emily Grant was a forbidden temptation from the first moment he saw her three years ago…when she married his brother, Jared. Even after their divorce, Nick kept his distance, unwilling to betray his brother. But now that Jared's been murdered because of an ancient erotic artifact and someone is threatening Emily, Nick can't stay away.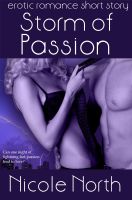 Storm of Passion
(4.00)
Seth Forester has wanted Lori Hollingsworth from the first moment he saw her in that hot pink bikini two years ago. And it's no secret Lori has a crush on Seth. The scorching kiss she gave him at a party a few months ago confirmed it. But if he gives into his urges and pursues her, he could lose his hard-won career. Lori is the boss's daughter, and Seth has already been warned to stay away...
Nicole North's tag cloud