Nicoline Smits
Biography
"Well," I said doubtfully, "I suppose I *could*."
"Of course you could."
"Only I don't quite know how to set about it."
"There's a good precedent for that. Begin at the beginning, go on to the end, and then leave off."

From Agatha Christie's "Murder in Mesopotamia," 10th Dell Paperback edition, 1979, p. 11

To cut a long story short, I always wanted to write a book, but I didn't know if I could. Events conspired to give me time, and I sat down and did it. Here it is. I hope you enjoy it.
Where to find Nicoline Smits online
Books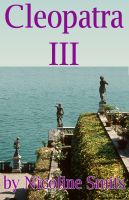 Cleopatra III
Cleopatra III is a less well-known ancestor of Cleopatra VII, but even more fascinating. She married her uncle, who was married to her mother, his sister, in a sibling marriage. Cleopatra III strove to become queen of Egypt in her own right and to keep her kingdom out of the claws of Rome. Did she do so out of idealism or selfishness? Find out in this work of historical fiction.