Bruce Campbell
Biography
Bruce Campbell is a psychotherapist with experience in mental health and substance abuse clinics in New York, and an educator who has taught masters' level social work. His current work is with adolescents and adults with anxiety, substance abuse, depression, attention deficit disorder and personality disorder.

In his earlier career, he managed technology projects and developed software and web sites for Fortune 1000 companies, advertising agencies, publications and smaller corporations.
Where to find Bruce Campbell online
Books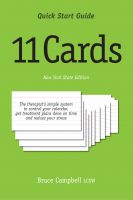 11 Cards: Quick Start Guide
The therapist's quick start guide to controlling your calendar, getting treatment plans done on time, and reducing your stress. Designed for therapists, counselors or caseworkers in the mental health or substance abuse field who need to manage caseloads of clients and ensure the timely review of treatment plans every 90 days.