Patti Brooks
Biography
The need to ride and write has dominated Brooks' life. There were times when she and her husband, Bob, had as many as a hundred Morgan Horses on their farm in East Lyme, CT. Although she has been an avid horse show exhibitor, her real love is competitive distance riding and she has always been game to take on off-beat endeavors with horses. Brooks and her stallion, Peppertime, appeared in TV commercials and were chosen to jump out of a horse-size birthday cake to celebrate the bicentennial of the Morgan Horse.

It's inevitable that horses often trot into Brooks' writing. She sold her first article to a national magazine at age sixteen and that gave her the incentive to keep writing. Brooks has hundreds of published articles, including Goodhousekeeping. She wrote a monthly column for several equine publications. Her first novel, Mountain Shadows has been chosen as required reading in some NY State high schools.

Brooks served as President of the New England Morgan Horse Assn. and has been inducted into the American Morgan Horse Association's Hall of Fame. Currently she is serving a term as President of the Eastern Competitive Trail Ride Assn. and teaches a fiction writing class at a local community college.
Books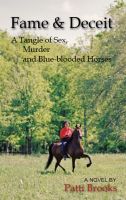 Fame & Deceit
By
Patti Brooks
Price:
$9.99 USD.
Words: 81,450. Language: English. Published: August 28, 2010 by
Aberdeen Bay
. Category: Fiction
It's all about the power of a dream. Driven by his Olympian goal of achieving world class recognition, Ike Cherny blocks out the world. Except for an occasional pretty woman or two, he tries to turn a blind eye to the evil swirling around him....Someone is secretly dumping toxic waste....Someone is secretly killing clergymen....Fame & Deceit is a tangle of sex, murder and blue blooded horses.
Patti Brooks's tag cloud