Paul Haines
Biography
Paul Haines was raised in the 70s in the wrong part of Auckland, New Zealand. After completing a Bachelor's degree in the frozen, drunken depths of Otago, he wound up working in computers and was eventually lured by sex and money to Australia in the 90s. Vowing to never call it home, he now lives in Melbourne with his wife and daughter.

He is the author of the award-winning collections Slice of Life (The Mayne Press, 2009) and Doorways For The Dispossessed (Prime Books, 2006). Paul survived the inaugural Clarion South writers workshop in 2004, and he has won the Aurealis, Ditmar, Chronos, and Sir Julius Vogel Awards and made the James Tiptree Jr. Honours List and the Locus Recommended Reading List for his writing. He is also a member of the Melbourne-based speculative fiction writers group SuperNOVA.

Lately, he's been struggling to fight cancer.
Where to find Paul Haines online
Books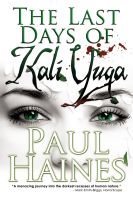 The Last Days of Kali Yuga
These are the last days, when the powers of the Gods wane and evil walks the Earth. Travel the blood-stained trails of Kathmandu. Explore doorways to other worlds. Fight for humanity's darkening soul. The Last Days of Kali Yuga is urban fantasy at its darkest. You will stare deep into the heart of the cruelest monster of all: man.