P. V. LeForge and Anne Petty
Biography
P. V. LeForge lives on a horse farm in north Florida with his wife Sara Warner. In addition to writing, he does farm chores, plays music, and shoots target archery. In e-book format, his books can be found at most of the major e-book retailers. For print copies of his books, visit http://www.blackbayfarm.com/books/PVL.htm.

Anne Petty was the author of three horror/dark-fantasy novels, three books of literary criticism, and many essays on writing, mythology, and J.R.R. Tolkien. Before her death of cancer in July, 2013, she was an active member of the Horror Writers Association and the Science Fiction & Fantasy Writers of America. In 2006, she founded Kitsune Books, a small press specializing in literary fiction and book-length poetry collections.
Books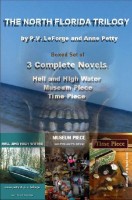 The North Florida Trilogy: Boxed Set of 3 Complete Novels
Three complete novels of mystery and suspense in North Florida in the 1980s. Hell and High Water features Carla Conway, a shrimp boat operator who finds a corpse in an old church. Museum Piece finds PI Vicky Rankin in search of Conquistador treasure. Time Piece is the story of Melanie Truslow's search for the man who caused her father to jump off a pier one stormy night. Three women, three cases.
P. V. LeForge and Anne Petty's tag cloud