Peter Barbas
Biography
Have you ever wanted to live your dream ?
I guess everyone has but the reality is that very few people get there, I am one of the few lucky people that get to live their dreams each day. From extensive travelling to international business experience I have had amazing adventures. My business expertise extends from the good old days of computer software selling "vaporware" to water less car wash experimentation, running a public multi-million dollar investment group and guest lecturing at a MBA business school to name a few. I have been unemployed, a telesales person, self-employed, middle management, business owner, business investor and CEO of publicly listed companies.
Where to find Peter Barbas online
Books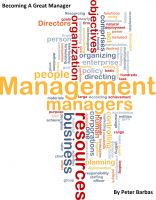 Becoming a Great Manager
Waiting to succeed? Then this book is for you I share some secrets and practical advice on how to change your business life and move up a few ranks quickly and efficiently.Knowing how to manage people and situations is a trait all successful people have in common. It's now time for you to learn this secret, make more money in less time and persuade people to work towards your goals.