Peter Thorpe
Biography
Peter Thorpe's experience in business spans over 30 years. In his early career he held a number of senior management positions, including that of CEO of Sharp Corporation of Australia.
In 1976, Peter decided to start his own business and since then, he has created a number of successful business ventures in the fields of importing, retailing, advertising and publishing.
In 1988, he saw an opportunity to capitalise on his extensive knowledge of small business entrepreneurship and he started his own magazine called Australian Small Business Review. The publication was an outstanding success and he was ultimately bought out by a large publishing house.
He created and conducted the highly successful seminar series Be Your Own Boss. With the assistance of the Commonwealth Bank and Yellow Pages the program ran for several years throughout Australia and was attended by thousands of small business owners and aspiring owners.
Today, he runs his own marketing and advisory company helping business owners both large and small with their business strategy planning and online marketing. He is the former NSW State President of BUSINESS SWAP (a business networking club) and is a sought after keynote speaker on the topics of business development, online marketing and entrepreneurial skills.
Where to find Peter Thorpe online
Books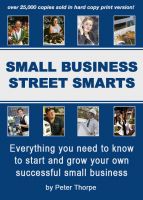 Small Business Street Smarts
How to start and grow your own successful business. Have you ever wondered why some businesses seem to go from strength to strength, while others just struggle along or worse still, close the doors not long after they open? What do the successful people know that the unsuccessful people don't? This book looks at the basic things you need to know to start and grow your own successful business.