David Franken
Biography
David Franken was a Programmer for Australia's Seven Network for twenty-five years, based in Brisbane, during which he was in charge of Network documentary acquisitions and scheduling. He left Seven Network in 2003 and currently runs a television programming and production consultancy.
He created a seven-hour documentary series for his former network which screened in primetime in early 2005.
He has completed his first feature film script dealing with iconic Australian themes and has developed a prime time drama series under consideration for the UK market.
Anna Strange and the House Fantastic is David's first foray into the world of speculative fiction, quest, adventure, drama and fantasy. Two more books are in gestation at the moment, continuing the adventures of Anna Strange.
Where to find David Franken online
Books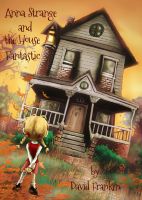 Anna Strange and the House Fantastic
(4.00)
Anna Strange is stranger than she thinks. When a mysterious house summons the 12 year old Anna, it engulfs her in a journey of discovery and adventure through rooms of fantasy, mystery and revelation. Anna is about to find out just how strange – and how real - she really is.