Kevin Cochrane
Biography
Kevin Cochrane has a witty and informed perspective that allows him to identify surprising themes running through history. Developed through his 20 years as an economics professor, Cochrane's classes are known as "rock n' roll without music." In addition to appearing regularly on TV to explain current economic trends, as well as frequently writing newspaper columns, he was finally persuaded to write a book tracing economic development in a way that only he can do. He and his wife currently divide their time between homes in Grand Junction and New Orleans.
Where to find Kevin Cochrane online
Where to buy in print
Books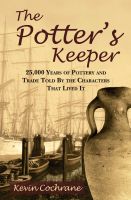 The Potter's Keeper
Have you ever wondered why your cell phone doesn't have an antenna anymore? What did the Spanish do with all that New World gold and what's up with the Neanderthals? Inspired by globe-circling travels, Cochrane shows how the crude pottery made by cavemen is directly related to modern day space exploration. It's Freakonomics meets the DaVinci Code!