Pete Peterson
Biography
Pete Peterson is the author of The Relentless Gun, Reckoning At Raindance and A Dark Trail Winding, all published by Avalon Books. A fourth novel, Mark Of The Serpent, is available in softcover from PublishAmerica and as an audio book under the title of Black Clouds And Epitaphs*. Untreed Reads Publishing will produce an ebook version of Black Clouds and Epitaphs in 2010.

He is a member of Western Writers Of America and an award-winning artist, painting scenes of the American West he loves.

Pete is the great-grandson of a Confederate veteran and descended from Cherokees who trudged the Trail of Tears. He is a devotee and student of frontier history and fiction, a lover of Western art.
Where to find Pete Peterson online
Books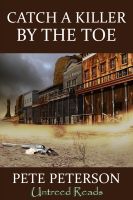 Catch a Killer by the Toe
Marshal Sam Catlin's attempts to keep order in the unruly Western town of Fairplay are becoming more challenging by the day. First is the discovery of the body of Caleb Tinker. Then, the local beggar is nearly killed and one of his oppressors turns up dead. When his investigation reveals the events may be related, Catlin finds he'd better solve the cases soon...or risk becoming the next corpse.