Prizeman & Kinsella Agents
Biography
Prizeman & Kinsella The Literary and Film Agents, based in Dublin,Ireland and Essex, UK.

Patricia Prizeman; Patricia has worked within the

book trade for over 17 years in the areas of

wholesale, retail and publishing, handling event

management, marketing, sales presentation, media

liaison, public relations and publicity.

Over the years she has been a member of the Irish

Bookseller's Association, World Book Day

Co-Ordinator for Ireland and a member of the

European Federation Bookseller Association.

Patricia is passionate about her work, she has always loved

being a part of the Irish booktrade and embraces her time now

working in the UK.

Yvonne Kinsella; Yvonne has worked within the media

for twelve years as a journalist, TV Producer

and author. She has numerous contacts throughout

the business and within the publishing industry.

She has had four books published to date with a fifth on the way and she knows only too well what is needed to succeed as a writer and what publishers are looking for in a potential author. She also knows what the media are looking for when it comes to drama/tv or film options.

Yvonne's books are all non-fiction and include ghost written memoirs and true crime. They include: The Girl in The Wicker Basket (the story of Ann Kenny) Poolbeg, Confessions: The Secret Life of a Lapdancer (Billiegean Finn), Living With Murder, Gill & Macmillan, Sent By An Angel, the amazing story of Kevin Skelton, Poolbeg and Witness to Evil, published with Hachette Ireland.
Where to find Prizeman & Kinsella Agents online
Books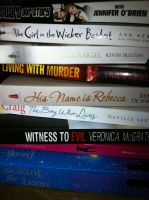 An Agents Guide To Getting Published
Prizeman & Kinsella The Literary & Film Agents Guide to Getting Published. The No nonsense guide for writers covering synopsis, writing groups, websites for authors, ebooks, self publishing, agents, book fairs, check list and common sense approach to entering the book trade world.