Quilters Newsletter
Biography
Quilters Newsletter is the most trusted source of news and in-depth information about events and people from around the quilt world. Our techniques and patterns reflect the hottest trends in traditional, contemporary, and artistic styles and challenge dedicated quiltmakers to expand the scope of their expertise. Quilters Newsletter adds to the ongoing written record of all aspects of quiltmaking that researchers, collectors, dealers, and conservationists will refer to for years to come.
Where to find Quilters Newsletter online
Books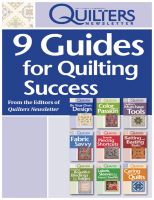 9 Guides for Quilting Success
These exclusive guides were created by the editors of Quilters Newsletter just for you—to help you create your best quilts ever! Each one is loaded with valuable ideas, tips, and shortcuts to help you design beautiful projects.
Quilters Newsletter's tag cloud