Robert Broenen PsyD
Biography
Robert Broenen, Psy. D. , is a psychologist who holds a master's degree in philosophy from the University of Toronto and a doctorate in psychology from Pepperdine University.
He makes his home in southern California.
His website is: www.findingmypath.com.

Mari Broenen, PhD, is University Professor and Department Chair at
Brown Mackie College,Tucson. She holds master's and doctoral degrees in
mythological studies and depth psychology from Pacifica Graduate Institute.
She resides in Arizona.
Her website is: www.maribroenen.com.

Robert and Mari are father and daughter.
Where to find Robert Broenen PsyD online
Books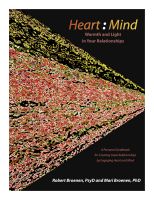 Heart : Mind - Warmth and Light in Your Relationships
The authors, Robert Broenen PsyD and Mari Broenen PhD, explore the dynamics of interpersonal relationships and create the Heart : Mind model--a simple and effective system for identifying, evaluating, understanding and optimizing your interactions with others. The book is a practical guidebook with exercises for making the most of your relationships--from the casual to the intimate.