R. A. Harold
Biography
Roberta Harold is at work on her third novel, a re-imagining of the life of a Civil War widow. Her first two books, Heron Island and Mortal Knowledge, mysteries set in the early 1900s and published under her pen name of R.A. Harold, feature security agent and sometime Shakespearean actor Dade Wyatt.
A 2001 graduate of the Bread Loaf School of English at Middlebury College, she studied fiction writing with novelist Jonathan Strong and poetry with Paul Muldoon, winning the 1999 Poetry Competition there. She was a 2009 finalist for the Orlando Award in Short Fiction of the A Room of Her Own Foundation. She is a member of Sisters in Crime and of Grub Street, Boston's creative writing center.
A native of Scotland who emigrated to the U.S. at the age of twelve, she was among the first women graduates of Princeton University in 1973. She lives with her husband in Vermont and in Brooklyn, New York.
Where to find R. A. Harold online
Books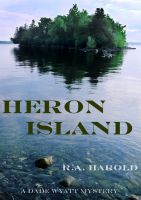 Heron Island
Widowed Rough Rider Dade Wyatt longs to cast off his shadowed past and retreat to a quiet life as a security operative for paper tycoon Warren Dodge. But when plans to host Wyatt's old commander Teddy Roosevelt on Dodge's idyllic Vermont island are imperiled by a guest's death, Wyatt descends into a maelstrom of poverty, anarchy and class war to safeguard the President and catch a killer.