Maria Munoz
Biography
Nearly 25 years of experience as a speech-language pathologist has given Maria L. Muñoz, Ph.D., CCC-SLP insight into the profession from the perspective of a student, a clinician, a researcher, a clinical supervisor, and an instructor. Her commitment to engage in and teach evidence-based practice led her to two questions: How do clinicians find the time and resources needed for EBP? Where do clinicians go to learn how to implement specific treatments? Not finding good answers to either question, she came up with one…Recipe SLP, the speech-language pathologist's source for affordable evidence-based guides to the science and method of specific clinical practices.

Dr. Muñoz is currently an associate professor in Fort Worth, TX. She earned her Ph.D. from the University of Texas at Austin as a participant in the Multicultural Leadership Training Program, after which she completed a post-doctoral fellowship at the University of Arizona. Dr. Muñoz has clinical experience working with adults and children with impairments in speech, language, and cognition. She teaches and provides clinical supervision in the area of acquired neurologically-based disorders of language and cognition in adults, particularly individuals who are Spanish speaking or bilingual. Additionally, she teaches courses related to the management of communication disorders in culturally and linguistically diverse individuals across the life span and a course in counseling individuals with communication impairments and their families. She conducts research on aphasia in bilinguals and Spanish speakers, as well as pedagogy in communication sciences and disorders. Her work has been published in a number of peer-reviewed journals including Aphasiology, American Journal of Speech-Language Pathology, and Brain and Language.
Where to find Maria Munoz online
Books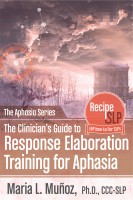 The Clinician's Guide To Response Elaboration Training for Aphasia
This Recipe SLP guide provides a step-by-step how-to for implementing Response Elaboration Training and Modified RET for individuals with aphasia. This evidence-based guide explains the theory behind RET, describes tips, modifications, and variations for implementation, briefly summarizes published findings on patient outcomes, and provides active links to online resources.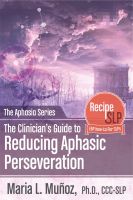 The Clinician's Guide to Reducing Aphasic Perseveration
Designed by the author, Reducing Aphasic Perseveration (RAP) is a treatment based on a theoretical understanding of lexical retrieval and perseveration. This guide to RAP provides step-by-step instructions for implementation, suggestions for cues and supports, and a variation for use with Spanish speakers. Though the evidence is anecdotal, the available theory and research are explained.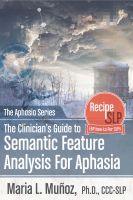 The Clinician's Guide to Semantic Feature Analysis
Students new to Semantic Feature Analysis (SFA) or experienced speech-language pathologists wanting to expand on its application will find many uses for this short and quick overview of the method, theory, and evidence-base of SFA, This evidence-based guide reviews steps and tips for implementing one type of SFA and its variations, and briefly summarizes related research.