Remedy Murray
Biography
Remedy Murray, Spoken Word Artist/Poet, Writer, and Stage Performer was born and raised in Cincinnati, Ohio. Remedy, the mother of two children, wanted to set a good example by showing them that when you have something in life that you're really passionate about ~ Go for it! This example lead to Remedy releasing her first Spoken Word cd entitled: " A Dose of Remedy" after receiving rave reviews and winning two OHHA awards, Remedy traveled and performed in various cities. It was on the road where Remedy met more than a doze young ladies who told her about their struggles with relationships and thanked her for her uplifting and encouraging words. It was hearing the sadness and confusion from these young women that fuel the fire to create the book "How to Recognize the Signs of a Bad Relationship".
Smashwords Interview
Where to find Remedy Murray online
Books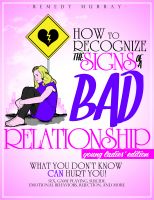 How to Recognize the Signs of A Bad Relationship
"How to Recognize the Signs of a Bad Relationship" was written with teenage girls/young ladies in mind. The topics on Communication, Suicide, Rejection, Sex, Self- Respect, and more will give young ladies some insight on the emotions and struggles relationships go through.