R H Mursell
Biography
Raymond Mursell was born in Swindon England and educated in Hampshire,
where he was awarded an art scholarship. After alerting his father of his intentions, he was quickly coerced to pursue a 'practical' method of earning a living.

Finally the 'practical' lifestyle ebbed and he worked in the Caribbean for three years, until moving to New York City where he lived for eleven years before venturing to Las Vegas, Nevada in 1996.

His past employment necessitated constant research and detail, which has helped him give authenticity to his stories.

Raymond has always been interested in human and high adventure stories that were evident in his high school essays which, apart from art, he always excelled at. 'It helped me get good grades' he jokes.

He continues to live in Las Vegas, with his wife Donna and their family of cats.
Where to find R H Mursell online
Books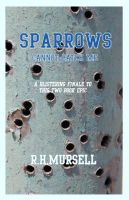 Sparrows cannot catch me
Traumatic events occur to David when he finds out his true identity is in question, compelling him on a quest to find his real parents that ultimately leads him to war torn Israel in the years preceding the dramatic Six Day and Yom Kippur Wars. Eventually his passion for aviation calls him to enter a perilous world.