Richard Holcroft
Biography
Richard Holcroft is a pseudonym for Arthur Bauer, a retired airline pilot, former Marine Corps pilot, and retired attorney in the Dallas-Fort Worth area.
Mr. Bauer's writing credits include numerous articles in such magazines and journals as Carte Blanche, Air Line Pilot, Houston Law Review, and California Living, and a medico-legal book on fetal tissue transplantation. He is a member of International Thriller Writers.
Mr. Bauer received his B.S. in Electrical Engineering from Clarkson University, an M.S. in Mass Communications from San Jose State University, and a law degree from Southern Methodist University.
Born and raised in New York, Bauer currently lives with his wife and two loopy cats in Fort Worth, Texas, and Lincoln City, Oregon.
Books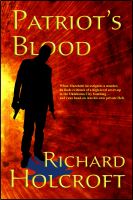 Patriot's Blood
(5.00 from 4 reviews)
When attorney Mike Marchetti investigates a murder, he uncovers evidence of a high-level cover-up in the bombing of the Murrah Federal building in Oklahoma City. A crooked televangelist and members of various hate groups combine with a Middle East terrorist cell to lead Marchetti headlong into his own private hell, even as he hopes the FBI will own up to its role in the cover-up.
Richard Holcroft's tag cloud