Richard Jenkins
Biography
Well, I just love to write, to think about and to come up with stories. Maybe my life is boring.

I have been writing since the age of 15. Fortunately, life got in the way, and now, aged 38; I have finally finished my first novel.

My influences span literature, theatre and film - if a story is good and engaging, it's all I need.

Those who have influenced me are many, far too many authors and creators to list here - any genre, any era, if the story has got some humanity, I'll listen.
Where to find Richard Jenkins online
Books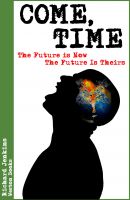 Come, Time
Samuel Dean lives an isolated, peaceful existence; he is alone and happy to be so. One night two officers from MI5 call and request his help. Suspecting a lie, he volunteers his time and is soon smashed into a world of murder, terrorism and international conspiracy. Propelled from his solitude he uncovers a sinister group of the world's elite who plan a dark future for all those beneath them.