Rick Lambert
Biography
Rick Lambert is father to four children. These stories are a collation of the bedtime stories told to his children. Each night Rick's children would look forward to the adventures of the much loved characters, who were born out of Rick's overseas travels. Rick's spare time is spent with family and friends. Amongst Rick's passions are riding his Harley Davidson, surfing, travelling and football.
Where to find Rick Lambert online
Where to buy in print
Books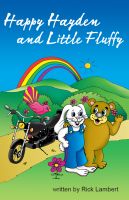 Happy Hayden and Little Fluffy
Happy Hayden & little Fluffy is the first of a series of colourful childrens picture books whitch tell the story of two friends & a magical bird as they set off to travel around the world on Grandfather's motor bike. They meet & play with many new friends along their magical journey. The series takes the friends to many different countries to experience different cultural events.