Rick Weismiller
Biography
Rick Weismiller is an experienced Kitesurfer who has been practicing the sport for more than 14 years. He has watched the sport grow from its infancy to the mainstream, professional sport that it is today. He has Kitesurfed on both coasts of the United States and is now living in Brisbane, Australia. When not Kitesurfing near the beach, he works as civil and environmental engineer.
Books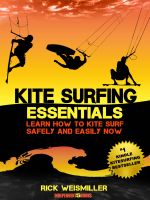 Kitesurfing Essentials - Learn How to Kite Surf Safely and Easily NOW!
No.1 Kindle Kitesurfing Bestseller now available in other eBook stores! Kitesurfing is one of the fastest growing and most exciting sports in the world, and there's no better way to start than this book! It has all the stuff you need to know – all about the gear, wind and water knowledge, and lots of beginner's tips from KiteSurfing World Champions such as Kari Schibevaag and Youri Zoon!
Rick Weismiller's tag cloud