Rivky Strassberg
Biography
At 16, Rivky Strassberg's eyes, peering through her copper dreads, may not hold a great deal of age... but they certainly sparkle with mileage. Her life, in upstate New York, has been anything but average --- and she uses those life experiences to pen anything but average tales. Her preferred genre is suspense/thriller, usually with an intense psychological twist.

Besides writing, she loves reading (everything from Shakespeare and Bram Stoker to J.K. Rowling and Ellen Hopkins), rock climbing and American Horror Story, piercings, ink, and mint chocolate chip ice cream.

... and any clothes from Trash and Vaudeville.
Books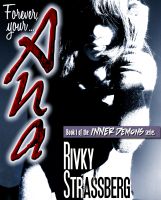 Forever, your... Ana
by

Rivky Strassberg
When Sarah Colin looked out her window one night, a lone figure was standing under the streetlamp. Ana had followed Sarah home from school and promised to be her new best friend, give Sarah everything she wanted, make her different, interesting, cool... beautiful. For Sarah, the only question was whether her new friend was a blessing or a curse. Either way, she was... Forever, your... Ana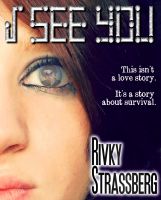 I See You
by

Rivky Strassberg
Boy meets girl… … and girl needs to save boy's life. This isn't a love story; it's a story about survival.
Rivky Strassberg's tag cloud