Roberta Allen
Biography
Roberta Allen scrimps and sometimes splurges in Oak Bay, Canada. She loves fresh ideas, creating order out of chaos, beauty in its myriad forms and critiquing as well as her husband, grown daughther and two sons, three granddaughters and two grandsons.
Where to find Roberta Allen online
Books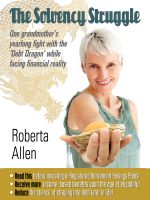 The Solvency Struggle
One grandmother's yearlong fight with the 'Debt Dragon'while facing financial reality • Read this before investing in Registered Retirement Savings Plans! • Receive more, income-based benefits upon the age of eligibility! • Reduce the chance of straying into debt later in life!
Smashwords book reviews by Roberta Allen
The Moratorium of Anya on May 16, 2012

A gripping, poignant, dramatic story of one courageous, steadfast couple's sturggle to wrest their adopted daughters from the jaws of Ukrainian bureaucracy.