Roberto Carvallo Escobar
Biography
Nacido en México y con un gusto por viajar que lo ha llevado a estar lejos de su país por casi diez años. Su pasión por viajar es compartida con la Filosofía y la narrativa latinoamericana. Después de completar su doctorado en Filosofía (Epistemología), decidió incursionar en letras más ingeniosas para intentar lograr, desde su rincón del mundo, un muy humilde homenaje a los grandes como García Márquez, Cortázar, Saramago, Vargas Llosa, Octavio Paz y Fuentes.
Where to find Roberto Carvallo Escobar online
Where to buy in print
Books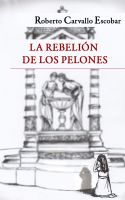 La rebelión de los pelones
(5.00)
Todos somos historias de muchas historias. Cargamos con una narrativa que nos hace lo que somos. Éstas nos muestran también lo que seremos. El libro narra el encuentro de personajes y eventos realistas en un mundo de mágica desolación creadora de la idiosincrasia del mexicano. En los personajes confluyen historias que intentan reflejar un México de recuerdos fantásticos que nunca tuvieron lugar.