Robin Tumman
Biography
I was born in York, the youngest of 6 children, and educated at Scarborough High School for Boys, where, during an A-level course in English, John Milton's Paradise Lost books 4 and 9, drove me to play truant permanently, and I was expelled from school. Not knowing what to do, I joined the RAF and became a Russian linguist. I have "not known what to do" ever since. I discussed with a friend recently that I had to write 100 words about myself for the inside cover of this book. He said, "I can do that in THREE - you're a twat!" I think that just about sums me up!
Where to buy in print
Books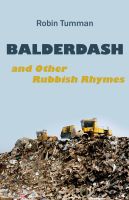 BALDERDASH AND OTHER RUBBISH RHYMES
by

Robin Tumman
Balderdash and Other Rubbish Rhymes is a quirky and rather modern collection of non-politically correct poetry. It is split into several different sections, which include 'Adult Humour', 'Children's', with its parodies of traditional nursery rhymes, and 'Historical or Biographical', which follow the stories of such historical figures as Winston Churchill and William Bligh.
Robin Tumman's tag cloud