Rose Nanashima
Biography
Rose Nanashima is a pseudonym of a multiply published, major award-nominated fantasy author. Born in South Carolina, Nanashima lived until the age of two in rural France, and then in the west of Ireland. At six, she moved with her family to the island of North Uist in the Outer Hebrides, where she joined the Girl Guides and appeared in productions of Robin Hood and Peter Pan at the RAF base on Benbecula. Some years later she graduated from Columbia College in New York City and then moved to Japan, where she now lives with her husband and two cats. When not writing, she works as a Japanese translator, sings Gregorian chant, and moonlights as a serial houseplant killer.
Where to find Rose Nanashima online
Where to buy in print
Books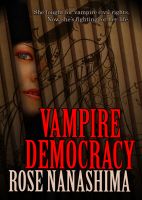 Vampire Democracy
A postgrad in paranormal studies, Clare Standing fights for vampire civil rights. But when her fieldwork takes her to Tokyo, she stumbles into a hidden community of the undead where violence is an art form, blood is power, and she's a target. Fellow researcher Keita Matsudaira, a student of black magic, offers Clare a gift of power to slay the undead. Can she pay his price?