R. P. Antweiler
Biography
I wrote this book while living in a trailer with a semi-hostile cat on a wooded Ozark ridge. That I'm a night watchman with a math/physics degree surprises people. "What happened?" is a usual comment. This book is my response. It addresses issues that can't be neatly caged in words, but that do need to be addressed in an examined life.
Books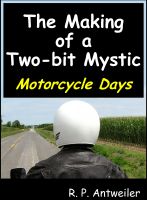 The Making of a Two-bit Mystic: Motorcycle Days
By
R. P. Antweiler
Price:
$0.99 USD.
Words: 60,280. Language: English. Published: March 22, 2012. Category: Nonfiction
Two-bit Mysticing (verb): prospecting the stream of our surroundings for buried nuggets in the graveled bottom. This is the story of keeping two wheels on the road while learning to gather moments that shine—like brain-cell gold. This mental gold is the marrow of our spiritual and artistic lives.
R. P. Antweiler's tag cloud